What's New
11th October 2017
October OGM Minutes
The minutes of the October OGM added to the 'Documents' section of the members area of the website. Members must log in using User name and Password to view.
9th October 2017
SE5a Takes to the skies
On a bright day with light winds Chris Berry flew his 1/4 scale 80" span, SE5a. The model needed very little trimming and flew on rails. The aircraft is built from a DB Sport and Scale kit and construction began around 10 years ago. The model is powered by a direct drive Zenoah 38, weighs 21lbs and is fitted with twin switches and 6v NIMH receiver batteries and 4x Hitec 645mg servos. Congratulations to Chris on completing this model, very nicely done look forward to seeing this in the skies.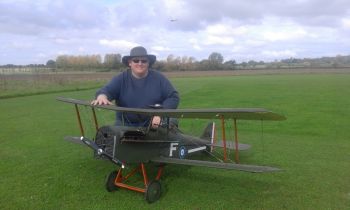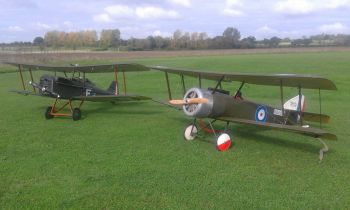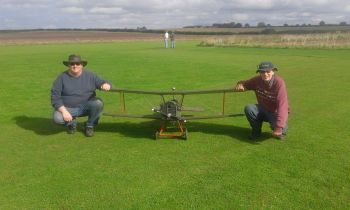 6th October 2017
2 Events coming up shortly
Saturday 14 October
A combined Scale Aircraft and Warbird event. This is because of the events that were cancelled earlier this year, due to bad weather. This is the last flying event of the year.
Dust off your scale aircraft and warbirds and bring them to the field on Saturday 14 October, flying starts at 11am. The competition will consist of members choosing an aircraft, either a warbird or scale aircraft that has been flown in the most scale like way throughout the event with prizes to be awarded for 1st, 2nd and 3rd place. Members will be free to fly their models at their leisure and to eat delicious cakes baked by Angie and hot sausage rolls supplied by John.
Fireworks Night 4th November
So this years Firework Night is on 4th November. Come along to this Legendary Evening, bring your Family and Friends along for some Spectacular Fireworks and some splendid food, with some great company and a spot of night flying.
New items added in the 'For Sale' section on the Home page
Members must log in using User name and Password to view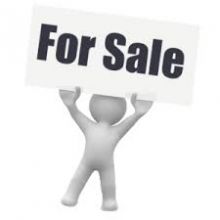 17th September 2017
Runway Number Removal
Another day up the field, this time a working party to remove the runway numbers.

14 members turned up early this morning to help with the removal of the main runway numbers. The working party supplied with tools from various members made it short work, although a tea break was required and a selection of sandwiches, sausage rolls and cake were on offer for members to 'dig' into.
Many thanks to everyone that came up and helped out.
Shortly after the weather really brightened up and model flying quickly resumed.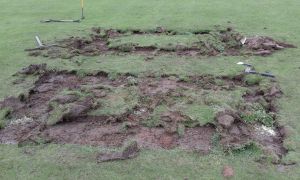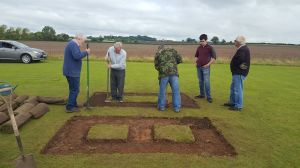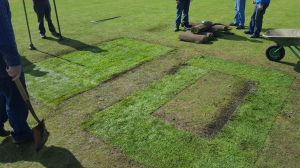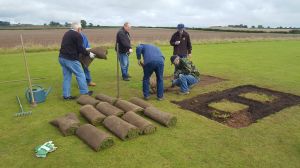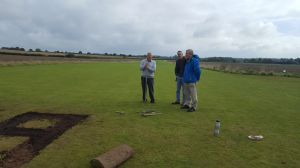 16th September 2017
Powered Gilding Day Event
What a great day up the field for the Powered Gilding day competition. Members were greeted with some superb flying and great food.
20 members turned up for this years event with 14 of those members taking up the gauntlet & flying 2 rounds with a 3rd round to determine the overall winner. 25 seconds powered run followed by up to a maximum of 6 minutes score in flying time and 10 seconds bonus for landing on the runway.
The first round started off really well with 3 strong contenders: Andy Rowley, Ian Hammerton & Peter Kobrin all putting strong times down from the outset.
The weather was a little challenging at times causing some pilots to overshoot the runway, and others just to lose lift when only feet from the ground and arriving rather than landing.
Round 2 saw some impressive times, but again Andy Rowley, Gordon Brown and Ian Hammerton all shone through.
Round 3 was the fly off to determine an overall winner.

The scores on the doors were as follows:
1st place Andy Rowley 12.20 secs
2nd place Gordon Brown 12.18 secs

3rd place Ian Hammerton 11.30 secs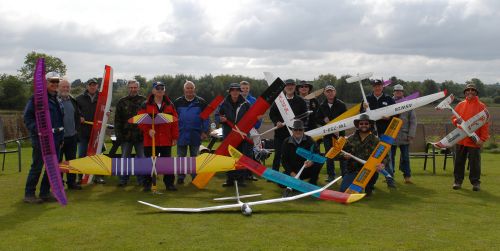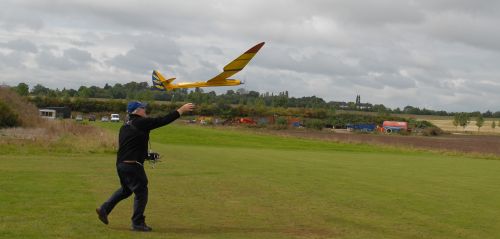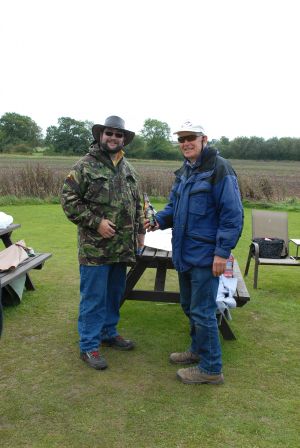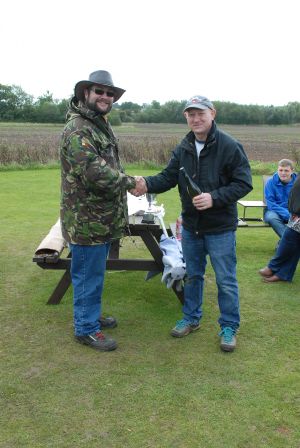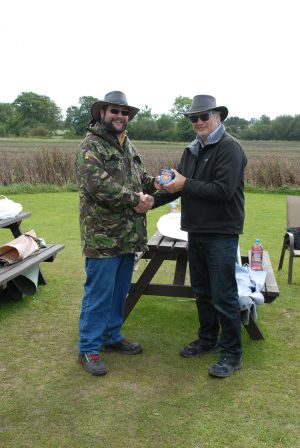 A big thank you to John Smith and Peter Kobrin for the time keeping, Angie and John Corkill for the cakes, sandwiches and sausage rolls, & also a big thank you to everyone that turned up and made it a great event.

13th September 2017
September OGM Minutes
The minutes of the September OGM added to the 'Documents' section of the members area of the website. Members must log in using User name and Password to view.
12th September 2017
Honorary Membership for Angie
For several years Angie Richards, ably assisted by Nigel, Harry and Zoe has gone above and beyond in providing us all with superb, sweet and savoury delights at many of our club events including the larger events such as the Bonfire night and Christmas buffet. To show our gratitude to Angie we thought it fitting to award her Honorary Membership together with a small gift. Angie has shown much strength and determination over the years in contributing to the club whilst facing some personal challenges which make this award all the more fitting. Thank you from us all.
Harry receiving the certificate and gift on behalf of Angie Angie with her well deserved award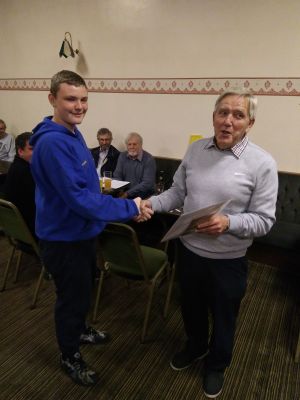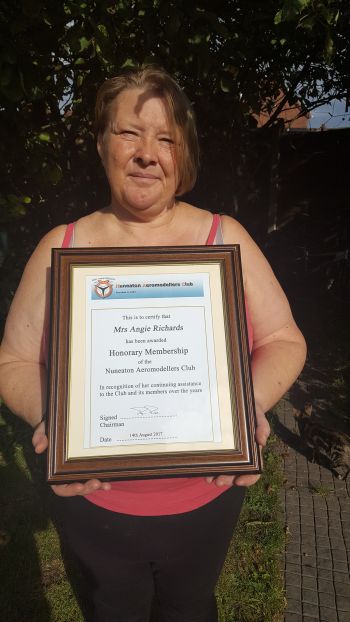 3rd September 2017
New pictures added to the 'General' section of 'Pictures'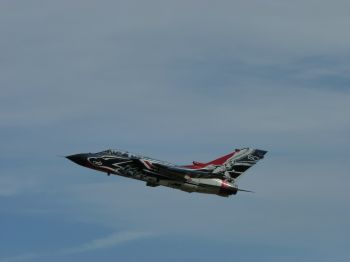 17th August 2017
The Indoor outdoor Barbecue
Click on the picture below for a superb video by John Smith of the warbirds day barbecue.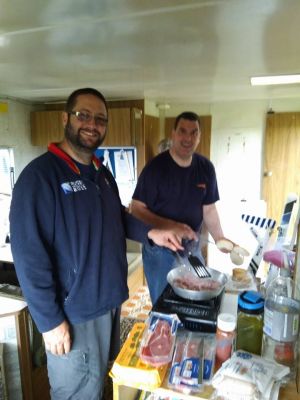 16th August 2017
New documents added to website
The minutes of the August OGM and The History of Nuneaton Aeromodellers Club Document added to the 'Documents' section of the members area of the website. Members must log in using User name and Password to view
15th August 2017
New items added in the 'For Sale' section on the Home page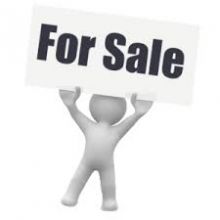 5th August 2017
Warbirds and BBQ's
Saturday was the Warbirds Event Day. With the weather during the week set to give the event day a damp start but clearing by mid morning the decision was taken to hold the event. With food brought and cakes baked it was clear from the outset that the day was going to be a very wet one. With some horrendous weather, the 13 members who turned up decided to take shelter in the caravan and see if the weather passed, it didn't and with the morning passing into the afternoon and no sign of it letting up it was decided to breakout the food and cook the sausages ,bacon and egg sandwiches and tuck into 50 splendid cup cakes baked by Angie Richards. The weather couldn't dampen the spirits in the caravan, and with the world put to rights a good laugh was had by all. The weather did break eventually leaving a clear afternoon / evening and those that did stop until the end managed to get a few flight's in, although two planes, Marks Acrowot foamie and Chris' Wot4 Foamie went home in a worse condition than they arrived. Many thanks to all those who attended had a great laugh and we hope to set a new date later on in the year.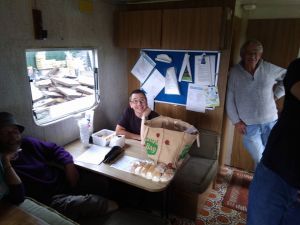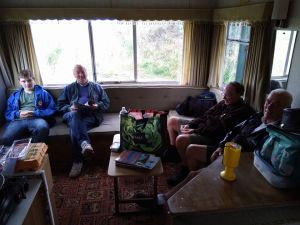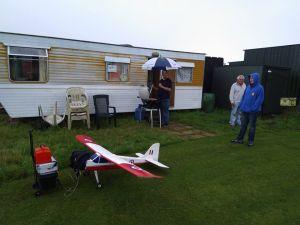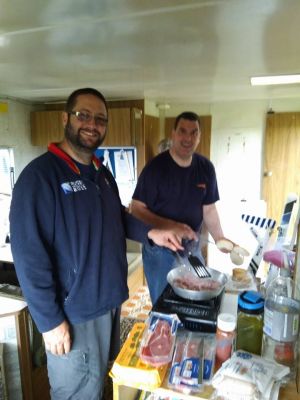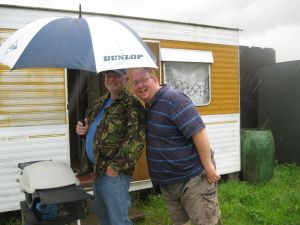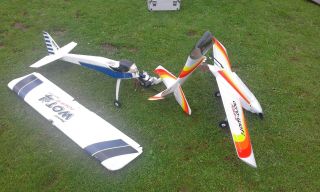 20th July 2017
School student experience day.
Six students and a teacher from Peter Kobrin's school enjoyed a model flying experience day by leaning to fly using buddy boxes with the help of Max Ayriss, Peter Kobrin, David Playfair, Chris Berry and John Corkill. The windy conditions made for some interesting flying for both the students and instructors but everyone enjoyed themselves and some proved to be excellent pilots very quickly. Thank you to everyone who helped today and I'm sure some of the students have gone away thinking this just might be the hobby for me in the future....let's hope so. To view all the photo's taken today go to the 'Pictures' section and click on 'Club Photo Sets on Flickr'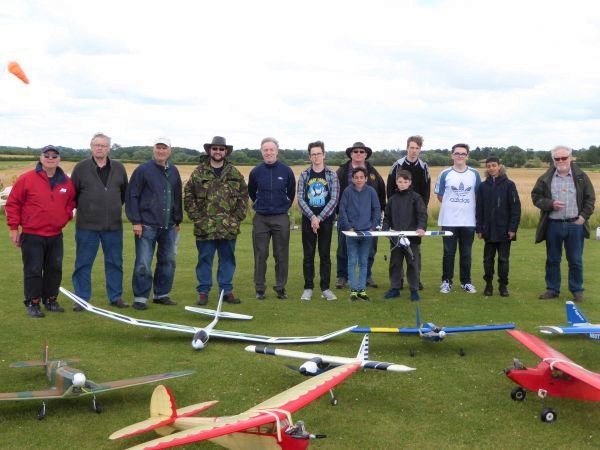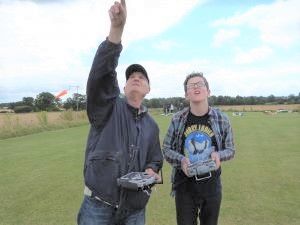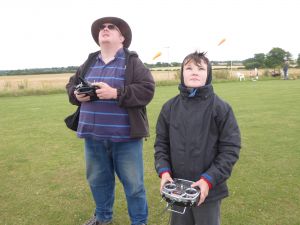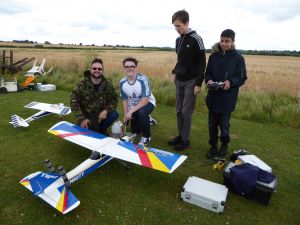 17th July 2017
LMA Cosford 2017
A group of Nuneaton Aeromodellers, spent the weekend Camping at one of the LMA biggest events of the year, Cosford Air show. Witness to some spectacular flying from a Fokker tri plane 1/2 scale, Pitts Challenger 55% Bi plane & a E.E Lighting to name but a few, with good weather and great company it made a fantastic weekend.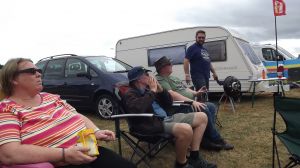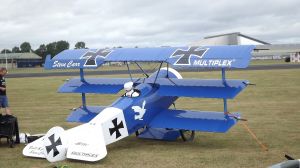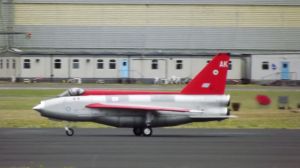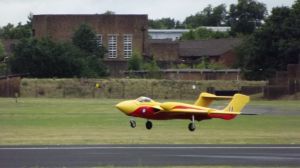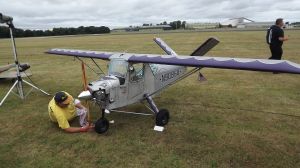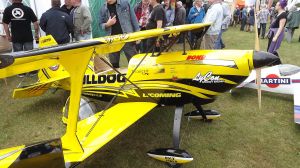 13th July 2017
July OGM Minutes.
July meeting minutes added into the Documents section. Members must log in using User name and Password to view
11th July 2017
Pictures and Event Report
New pictures and the 60th event report added to 'Events' and a report on Flying Legends in the 'General' section of 'Pictures'
10th July 2017
John Hall's Westland Lysander
Seen at the field today was John Hall's new Westland Lysander made from the 'Seagull Models' kit. This 118" span beauty weighs 22lbs and is powered with an OS 55cc petrol engine. John was running the engine for the first time and doing some taxing trials in preparation for its maiden flight in the next few days. Good luck John with your first flights.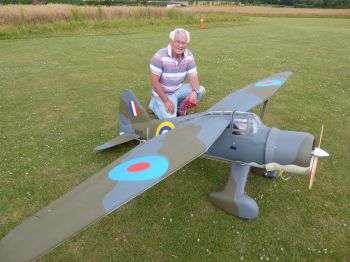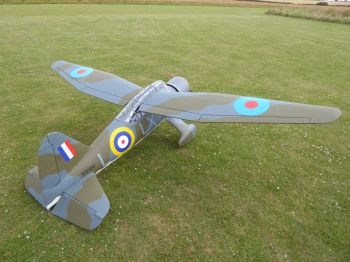 60th Anniversary flying day
With light winds and a sunny sky, over 40 current and former members and their families attended one of the most relaxed and laid back events in the clubs history on Saturday. The magic total of 60 models flown during the day was exceeded and we were treated to several superb flights by former Chairman, Tony Hooper now the Chief Examiner and CAA representative of the Large Model Association. Tony flew two superb models, his electric ME110 built from a Chris Golds plan which featured a full sound system and torpedo drop and a Zirolli Douglas Dauntless fitted with a Zenoah 80cc twin. The club also welcomed Pete lliffe who flew several of his superbly detailed 'micro' models.
Several mini competitions took place throughout the day including a spot landing which comprised 10 competitors. It was won by David Playfair with a score of 19, closely followed by Dave Berry with 20 points and Chris Berry 3rd with 27 points. During the day several people attempted the 'how many can you do in 60 seconds' event. This comprised Inside and outside loops, rolls, stall turns, spins and touch and go's.
The results are as follows:
Spins: John Cooper 49
Touch and go: John Cooper 12
Rolls: Chris Berry 62 (Thank you to Richard Tidy for the use of his plane)
Inside Loops: John Cooper 28
Outside Loops: Ian Hammerton 19
Stall turns: John Cooper 12
Well done and thank you to all those who took part.
Pictures of the winners can be seen on the Events 2017 page
The event would not have been complete without pork and stuffing, burgers and sausages on the barbecue, cakes and hot and cold drinks. Our thanks goes to Angie, Nigel and Harry Richards for providing us all with a wonderful feast and to young Hannah Fox for making some lovely cakes. Finally, thank you to all the members who turned out to support the event and to those who contributed to the food, the setting up and the smooth running of the day.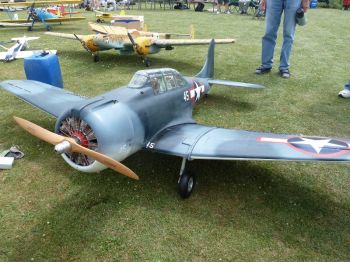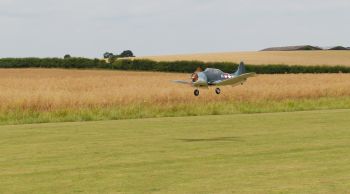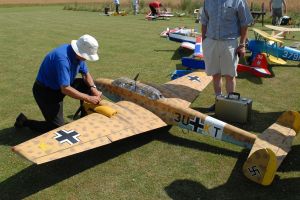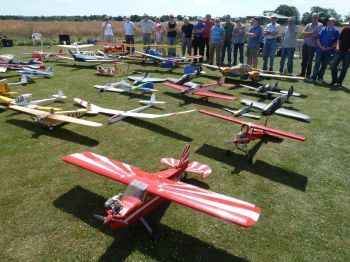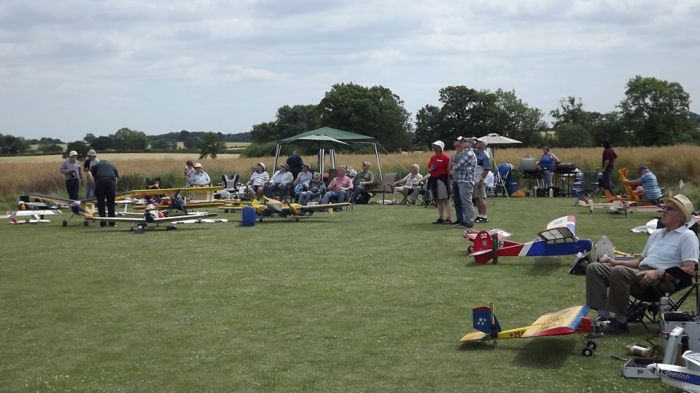 More pictures can be seen on the 'Events' pages
9th July 2017
Lipo fire
Lithium Polymer battery advice document added to the Help & Advice in the General Articles Section.
2nd July 2017
Lipo Fire
David Playfair emails:
I had a nasty scare this week at home when in the middle of the night I thought I could smell burning. A quick look round the house revealed nothing and thought it was just BBQ smells wafting though the open windows on this hot night. However, next morning I went into my modelling room and touched a sticky residue on the table and then noticed my Lipo storage bag was burnt to a crisp! How lucky am I the bag contained all the heat and didn't set fire to the house.
I've certainly learned I few lessons this week about storage of these potentially dangerous batteries which may be of help to others.

Always store batteries in a fire proof bag.

Do not leave the bag on a flammable surface.......got myself a large metal box now to put the bag of batteries in. Yes I lost about £50 worth of batteries but how easily it could have been so much more. Pleased the bags do what they say they do!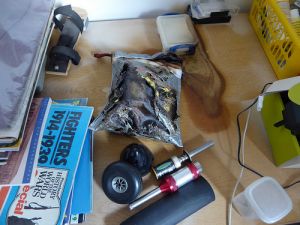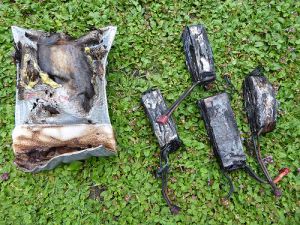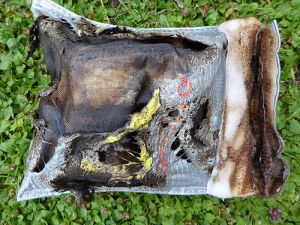 Thank you to David for his email and glad that he's safe and well as to what could of potentially been a different story.
Following on from Davids lucky escape, Chris Berry went to the Lutterworth Army Surplus Store (Open Thursday-Sunday) and purchased some Ammo boxes to store lipos in. Well worth £12.50 each. If you do buy any, make sure they either have a few holes drilled in them or some of the rubber seal removed to allow venting.

http://shop.rti-militarysurplus.com/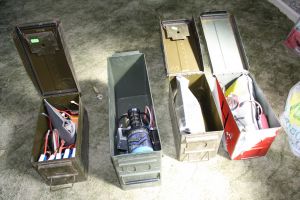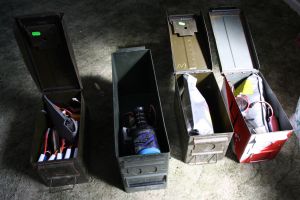 11th June 2017
Working party repair benches
On Saturday 10th June, a working party of 13 members turned up at the field despite the 60th Anniversary begin cancelled due to the bad weather, to help repair 2 of the benches that were sadly starting to see better days.

Timber was taken from a 3rd bench to make good the other two & with multiple sanders and brushes and a big 5l can of cuprinol 2 benches were hastily repaired in no-time and should now last another 10yrs, many thanks to all the members that could make this.
Danger.....Men at work!!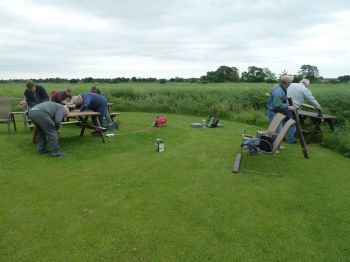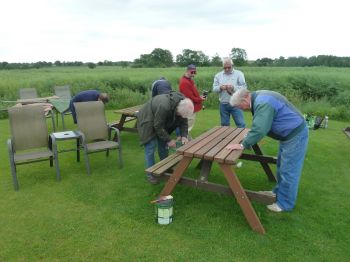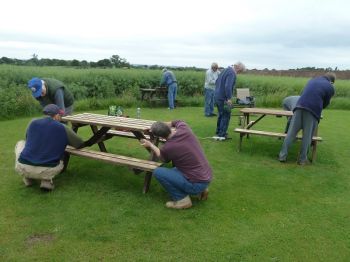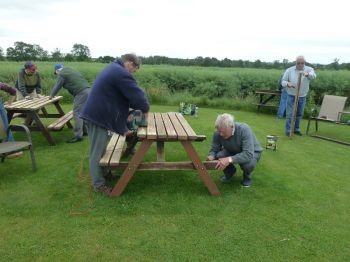 19th May 2017
Peter Kobrin's Build a Plane Project takes to the skies
On 18 of May, 60 guests, staff, volunteers and students attended the first public flight of the Ernesford Grange, Schools Build a Plane project. After speeches there was awarding of wire model keepsake versions of the plane to students and staff. We then headed to the apron for the flight. After the media, which included Coventry Telegraph, RAES media team and BBC were finished talking to the students and taking photos, the first flight took place. James Aitken, one of the 6th form students was chosen to go first, with our pilot and volunteer Steve Moody. 3 more students got to fly after that with 4 successful student experience flights taking place during the afternoon.
The project, sponsored by Boeing, overseen by the RAES, has taken 4 years to complete, with 33 students & 11 staff/volunteers involved in the build. The kit is a Rans Coyote S6es with a Jabiru 2200 engine.
Congratulations Peter and well done to all at Ernesford Grange school.

Click on the link below to see a video and read an article on the first flight
http://www.coventrytelegraph.net/news/watch-plane-built-coventrys-ernesford-13059351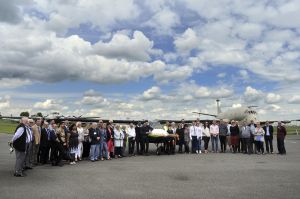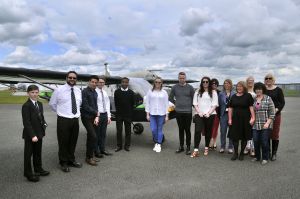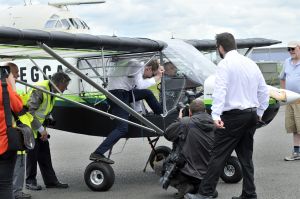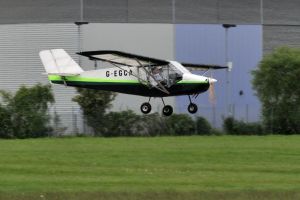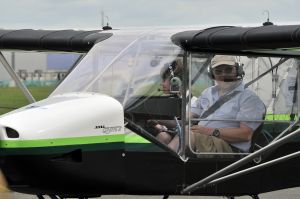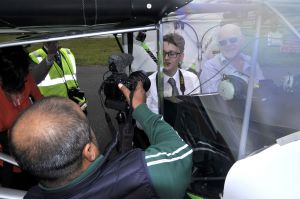 13th May 2017
David Playfair wins 2017 Bungee Gliding Event.
18 club members turned out to what was going to be a breezy and at sometimes wet gliding event. After much deliberation the decision was taken to hold the 2017 bungee gliding event. After a short pilots brief given by Peter Kobrin the event started, with each of the 13 members flying two rounds to determine the winner. Whilst many members struggled with the breezy conditions and towards the end they were fighting the rain, it left a battle for 1st place between Peter Kobrin and David Playfair, with David ending up the victor with a total time of 8m.53sec. Results were as follows: 3rd place to Terry Watson, 2nd place to Peter Kobrin and 1st place to David Playfair. As always a selection of food was supplied by the members, with tasty burgers and sausages on the bbq, and cakes baked by Angie Richards.... many thanks Angie. Thank you also to all the helpers in setting up the event and fetching and retrieving the bungee chord, which did break on a few occasions and was hastily repaired, without help from members event like this wouldn't be possible. Many thanks to you all.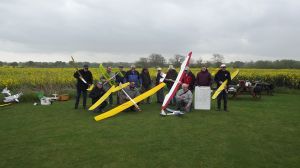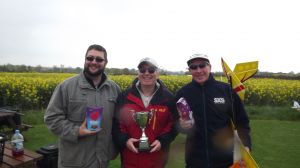 When items are no longer 'New' they will be moved, where appropriate, to 'Events' or 'Pictures'