Events 2013
Dave Perrett Gliding Trophy in April 2013
Archie winning the Dave P Gilding Trophy in April 2013
Aerobatic Champion April 2013 Pete B

Winter Build 7th May 2013
The pictures below show last years winner Dave A with his superbly built Junkers J7
Scale Day 18 May 2013
Click on picture to see the complete set of photo's taken on the day.
Event won by Geoff

Club Fly-in and BBQ June 2013
Click on picture to view complete set of 48 pictures taken on the day.
Vintage and Old Timers Day 13 July 2013
Aerobatic Tutorial Day
To view all the photo's taken at this event click the picture below.
Electric and Slow Flying Day Saturday 10 August 2013

A sunny but fairly breezy day attracted over 15 'wind warriors' to have some fun trying to fly as slowly as possible with both electric and i.c. models. Highlights were the three 'Twin Star kids', complete with red, white and blue streamers putting on a good attempt to fly in formation. Geoff flew a very attractive electric 'own design' twin electric model and Archie thrilled us all with a very fast ducted fan delta model......very exciting!
Well done to everyone who attended.
To view all the photo's taken at this event click the picture below.
Bi-Plane Day 7th September 2013


September Gliding Event
Click on picture below to see more photo's of the event
Winner Ted receives the Dave P Trophy from Dave P
Bonfire and Firework Party November 2nd 2013

Despite the windy weather, tonights bonfire and firework evening went off with a bang and was a roaring success. The rain held off and the huge bonfire kept everyone warm whilst we all tucked into some very tasty BBQ burgers and sausage rolls and watched a spectacular firework display.
Thank you to everyone who attended and special thanks goes to all those who helped in organising tonights event, especially to Nigel and Angie who looked after the BBQ so expertly and to Chris. Ted and Terry for lighting the fireworks and to Paul for taking the pictures.
Click on pictures below to see more photo's of the event
7th December: Pre Christmas Novelty Day

The last event of 2013 attracted nine members away from Christmas shopping on what was a very nice sunny day with very little wind and we all enjoyed some great flying whilst scoffing back a few mince pies as well!
Click on the picture below to see some more great pictures taken by Paul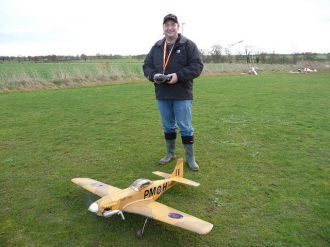 Dave Harris collecting the 'spoils of victory' on behalf of his winning team after the quiz held at the December meeting. Congratulations to Dave H, Dave B, Jim W and David P ....the 'A Team', who scored 47 points out of the 50 available. Many thanks goes to John C for compilling the questions and running this excellent and very entertaining event.