For Sale and Wanted Ads
To place an advert here please contact Nigel Richards (Web Master) nigelrichards1@live.co.uk
10th January 2021
Asking For Sale
Granville Brown was wondering if any member has a Spektrum DX7Sthat they would be willing to sell . Many thanks .
28th July 2020
Please see below of items for sale

Limbo Dancer
Wingspan 50in
Converted to Electric, will fly on 3S or 4S lipos.
In Very Good Condition.
Futaba R/X installed. Can be left in situ if required.
Price £45
I have both 3S and 4S Batteries available to purchase if required.
Hobbyking Walrus Motor Glider
Wingspan 56in.
Well Flown but in good condition.
Working Flaps.
Futaba R/X installed. Can be left in situ if required.
Uses 3S 2200mAh Lipo.
Price £25
Cermark Ultimate Biplane
Wingspan 30in.
In good condition.
Futaba R/X installed. Can be left in situ if required.
Uses 3S 1300mAh lipo.
I have four lipo batteries available to purchase if required.
Price £30
Fun Cub modified to look like a 1943 J4 Cub.
Dark Green with Invasion stripes.
Working Flaps and Landing Light.
Very docile to fly, looks good in the air.
Uses 3s 2200mAh lipo
Futaba R/X installed. Can be left in situ if required.
Price £20
This could be a good chance for someone new to the hobby to purchase
nearly every thing to start flying.
3 of the above aircraft are beginner friendly only the Cermark Ultimate is
more difficult to fly, but even this aircraft flies smoothly on low rates.
I have spare props and wing bands (Limbo Dancer) to go with each model.
Contact Mike TEL 07530796126
---
15th June 2020
Piper Cub 2.3 span electric setup - just add RX and battery
- quite a few people at the club have seen this fly and said how scale and well it flies
-Runs on 6s 5000mah and has plenty of power with that
- motor is a Turnigy G60 300KV
- Turning 80A ESC
- Hobbyking HK15138 high torque digital servos on all surfaces
- had about 4 flights in total and flies beautifully
- very hard to stall when the correct amount of rudder is mixed with aileron
- In as new built condition with no hanger rash
£400 ono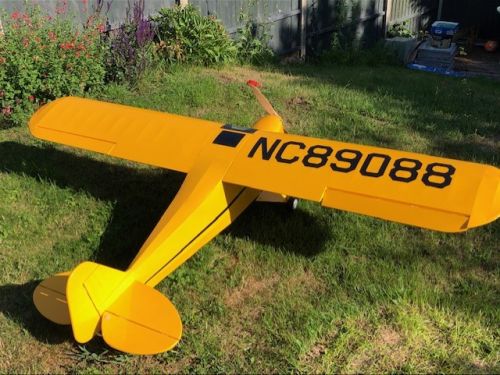 Century A1 Skyraider 1.6m span EP (minimum 7ch required) - just add RX and battery
- Runs on 4s 4000-5000mah
- stock motor and servos-
- speed brakes on the bottom and sides of the fuselage
- flaps
- upgraded rotating landing gear with shock absorption
- Very stable for a warbird due to the long wing design
- does have some hanger rash from being transported but can be sprayed up or weathering added to cover it over
£150 ono
---
6th June 2020
Items For Sale
New OS FS 26 4-stroke engine

New OS LA 40 2-stroke engine
New OS 61 SF engine
SC12
ASP46
Mag Pro 25
OS 25 Max ...no carb
Mint condition Futaba FF7 transmitter with carrying case.
Various boat engine bits and small aircraft kits.
All items to be sold quickly and the best offers will be accepted.

Contact: Martin Jacques on martinjacques@btopenworld.com
or phone him on 07807 561503.
any problems please contact Nigel or Chris.
---
16th October 2019
For Sale
Field DC Charger with sealed 12v battery. VistaPower balanced charger Lipo/Nihn- plus Genesis 12v 17.2 AH, rechargeable lead acid battery. Both items are surplus to my requirements. £25.00.

E-Flite 60amp Pro brushless ESC with switch-mode BEC and advanced Programming. Upto 6s Lipo. New, 3 years old but never used ! £15.00.
Contact Eric Loakes 01455459515.

---
09th August 2019
For Sale
Great Planes Fling Bungee launch glider.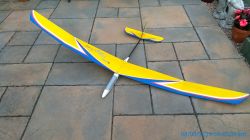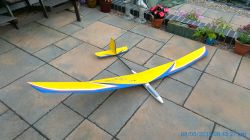 This glider has won our bungee launch event on 3 occasions in the past
2 metre wingspan
Elevator and rudder control surfaces
2x 0.800 ma batteries included in sale
Futaba fasst rx installed included in sale
If you have a futaba TX just launch and fly.
---
---
---
---
25th September 2016
Lead Sheet for sale.
Flat lead (roofing) sheet 1/16" (1.5mm) thick suitable for balancing your models. Easily bent, cut, moulded or formed into the size and shape to fit the space required. Any quantity or size supplied delivered to the flying field at £1 per lb (Or £2 / Kg).
Contact David Playfair on 01827 718613
Tower Pro Battery Monitors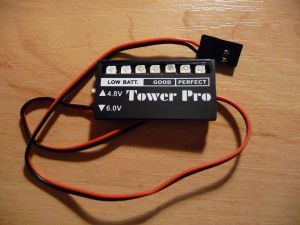 Tower Pro LED on-board battery monitor indicators suitable for 4.8v or 6.0v and compatible with all makes of radio control equipment. Leads are connected to a universal plug which fits directly into any output of any make of receiver.
£2-50 each or two for £4
Contact David Playfair 01827 718613
---