What's New
21st January 2019
Events & Show Dates published on the Events page.
January OGM Minutes
The minutes of the 2019 OGM held on 14th January have been added to the 'Documents' section of the members area of the website. Members must log in using User name and Password to view.
Just for Fun.
After the OGM meeting members took part in a paper plane Competition, Up for Grabs was very nice bottle wine supplied by the Chairman, Members were asked to design a paper plane that would travel the length of the room, the ones who's travel the furthest would win, Simples.
Several members took part building all manor of different shapes, sizes and styles, but the one that came out on top was Caleb, who's plane managed to clear the Length of the room, only stopping when hitting the bar area on the far side.
Many congratulation go to Caleb for Winning.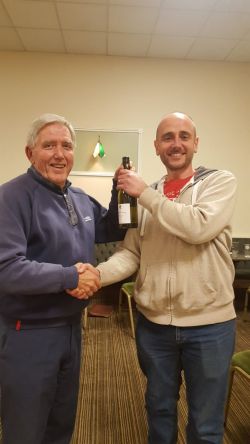 12th January 2019
Oratex Covering Replacement for Solarfilm.
When Solarfilm were shutting down John C looked around for alternatives and one was Orafilm/Oratex.
From several reports I came across at the time, Orafilm was a direct replacement for Solarfilm
but Oratex had no adhesive and required this to be applied to the wood beforehand.
I don't know if, at the time, there were other types of Oratex or whether they've introduced new
types to fill the gap in the market but I can report that Oratex is now definitely available with heat
activated adhesive, just like Solartex.
17th December 2018
December OGM Minutes
The minutes of the 2018 OGM held on 10th December have been added to the 'Documents' section of the members area of the website. Members must log in using User name and Password to view
15th December 2018
Stearman Takes to the Skies
Following on from previous trips to Florida where he flew an AT-6 Texan, Chris took full advantage of his recent trip to Florida to fly a PT17 Boeing Stearman at
Waldo Wrights Flying Service
. Initially he was going to fly from the Fantasy of Flight Air Museum however, high humidity resulted in a fault with the ignition system such that the flight had to be postponed. Not too disheartened, Chris and Emma had a look around the museum and had a long chat with the owner Kermit Weeks.
A few days later, with much better weather Chris visited Winter Haven Municipal Airport and had a 40 minute flight in the Stearman. The flight began with some taxing on the paved runway which is not as easy as just moving the rudder from left to right. Chris did most of the flying and throttle control including the takeoff a series of lazy eights and a missed approach down to 50ft at Fantasy of Flight where the engine gave a slight cough on the climb out as it throttled up. Chris also flew the circuit and landing at Winter Haven, with a bit of assistance on the final touch down and recovery.
Chris would like to thank Emma for organising the flight as a Christmas present and spending many hours on airfields during the holiday.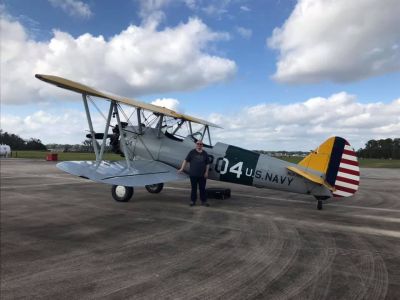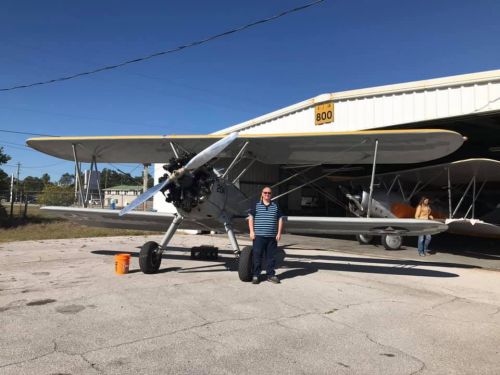 Full on-board video 48 minutes
Short takeoff video
https://www.youtube.com/watch?v=KVTjgewqjTs&feature=youtu.be
14th November 2018
November OGM Minutes
The minutes of the 2018 OGM held on 12th November have been added to the 'Documents' section of the members area of the website. Members must log in using User name and Password to view.
Item for Sale
Super Flying Model,
Fokker D V11

Check out the 'For Sale' page on the Home site, Members must log in using User name and Password to view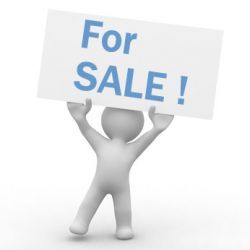 13th November 2018
RAF100 and Quiz Night
A good was night was had by all at this months meeting. 32 members turned out to take part in the annual cryptic club quiz prepared by John C and to bring a glorious selection of RAF aircraft for a special one off RAF 100 photoshoot.
A total of 23 aircraft of all shapes and sizes were brought along including Hurricanes, Spitfires, a Hawk, SE5a and Vulcan. An excellent tribute to the RAF.
As ever Johns infamous quiz covered several aviation related topics including modelling, aircraft recognition and cryptic clues. The winning team with a score of 41 was Roger P, Chris, Shekhar, Dave C and Pete B. Second place with a score of 40 was Tony B, Phil L, Max, Paul and Eric. Well done to all, especially quiz master John.
Special thanks goes to Angie, who once again excelled herself by providing a wonderful selection of cakes and sausage rolls.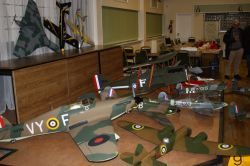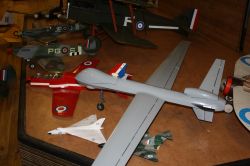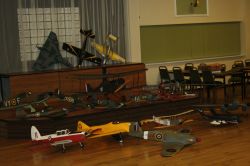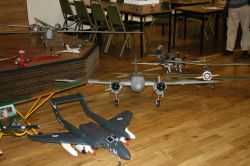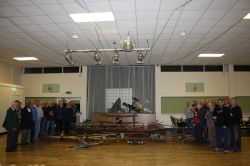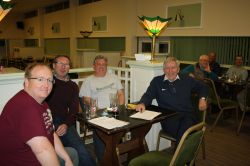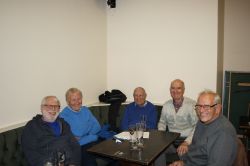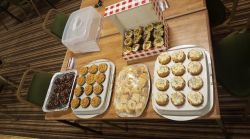 28th October 2018
10 years LMA Gaydon 2018
Many of our club member's attended the LMA Static event at Gaydon 2018, to see some of the splendid aircraft on display either built or currently under construction, this event always is well attended not only by modellers in general but our club as well.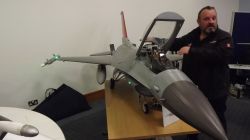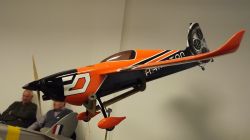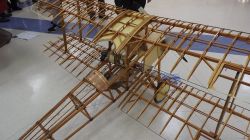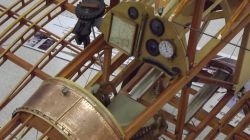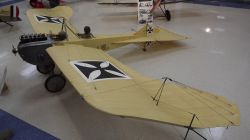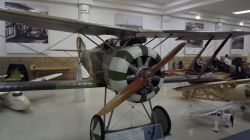 19th October 2018
Congratulations go to Phil H for Achieving his (A) test Great job Phil.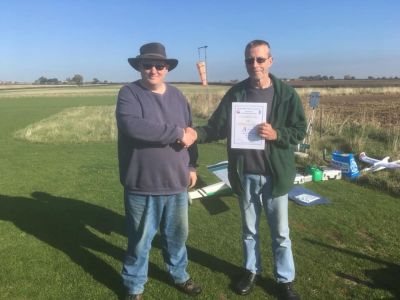 17th October 2018
Extra Good
On a calm and bright October afternoon, Ian H flew his new Extreme Flight Extra 300. Ian had originally intended to fit a glow engine to the model but instead opted to go for an electric set-up running 4s lipos.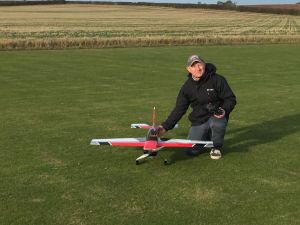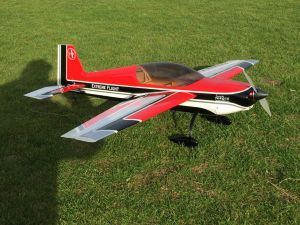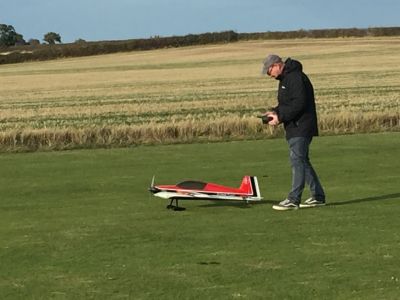 17th September
Scale Day Event
On Saturday 15th September, 26 members turned out in somewhat breezy conditions for the Annual Scale Day. As in previous years there was a competition element to the day to show off their scale aircraft. A competition was run to judge whose aircraft flew and looked the most scale like on the day. Before lunch members and visitors were invited to vote for the pilot who, in their opinion, had flown in the most realistic manner during the morning. Voting slips were counted during lunch after which the pilot with the most votes was awarded the prized Scale Cup. This year, the cup was won by John H, many congratulations to John and the runners up were Richard S 2nd, and Len G. 3rd. Many thanks go to all that helped out and run the event including to Angie R. for the gorgeous cakes and sausage rolls that went down a treat.
Many thanks to Tony C for the pictures..... great job.
To see all of the pictures please click on the link below.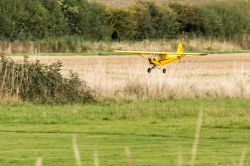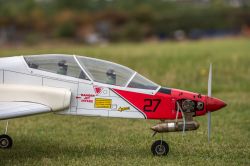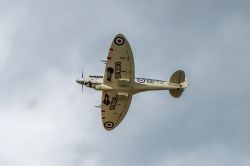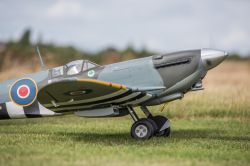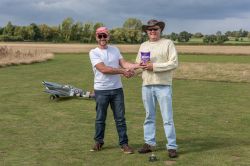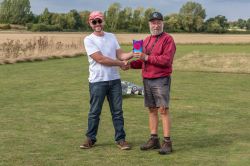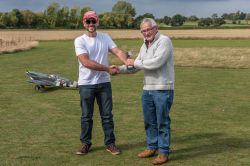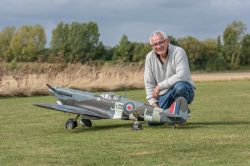 12th September 2018
September OGM Minutes
The minutes of the 2018 OGM held on 10th September have been added to the 'Documents' section of the members area of the website. Members must log in using User name and Password to view.
10th September 2018
Congratulations go to John S for Achieving his A certificate.
Many congratulations to you John.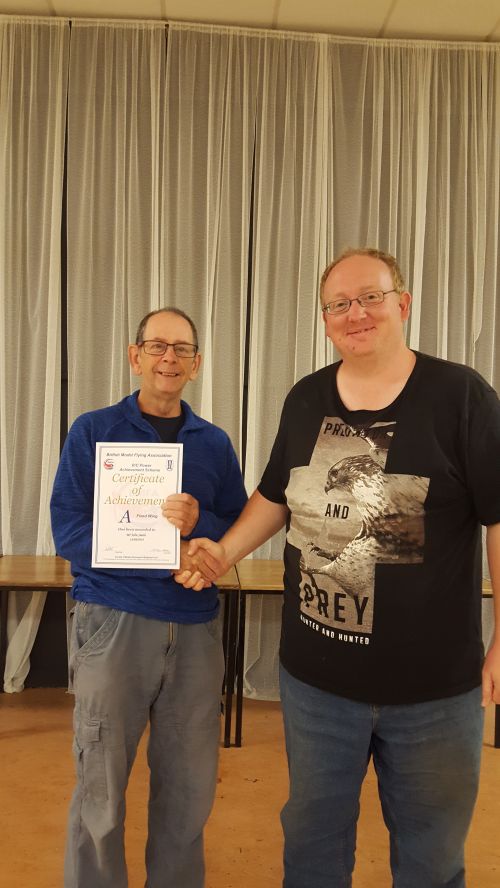 3rd September 2018
Worth a watch, some good advice & hits and tips for members.
click on the picture to view.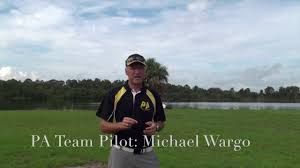 2nd September 2018
Chris flies his Fokker DVII
With light winds and a bright sky Chris flew his 1/3rd scale DVII on Thursday morning.
Chris bought the aircraft a few years ago and with a few modifications and the adding of some scale details Chris, assisted by Dave took the opportunity to fly the aircraft on a perfect morning.
The aircraft spans just under 10 feet on the upper wing, and just under 8 feet in length and is powered by Zenoah 62cc petrol engine with a 1:2.3 belt driven reduction unit, turning a 30x10 propeller.
The aircraft flies like a trainer and needed very little trim and will fly at a walking pace.
Well done to Chris and Dave.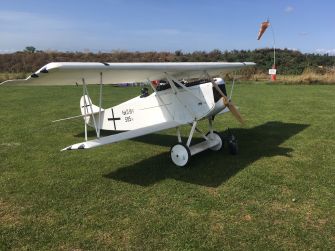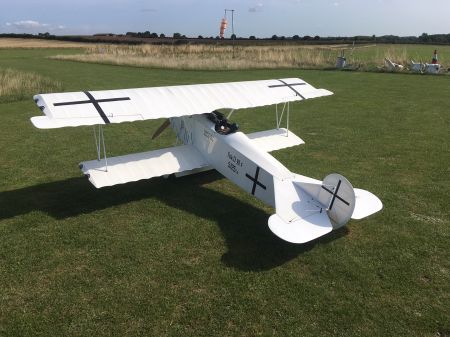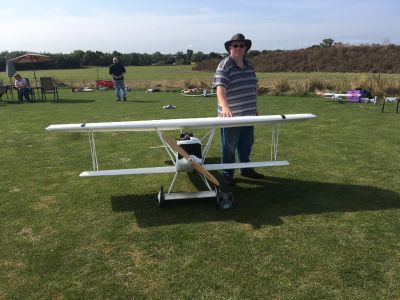 18 August 2018
Annual Power Gliding Competition
With 13 mph winds and gusts up to 18 mph, 12 pilots competed in this year's Powered Gliding competition for the prized Dave Perrett Cup.
1st and 2nd round flights consisted of a 25 second powered run followed by a maximum of 6 minutes gliding. A 10 second bonus was added for landings within the runway giving a maximum score of 6:35. Each pilot was given two attempts after which the five pilots with the highest single flight score went through to the final round.
In the final round the top five qualifying pilots all launched simultaneously with the final three landing planes receiving 1
st
2
nd
and 3
rd
places.
Congratulations
to the competition winner Gordon B who won with a 3
rd
round flight time of 6:23. Andy R came second with a flight time of 6:01 and 3
rd
place was awarded to Andy C with a final flight time of 5:10.
An enjoyable day was had by all; thanks to all who took part and supported the event, particularly to Peter K for providing a fantastic BBQ!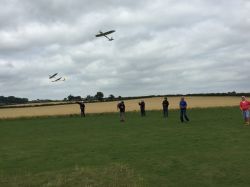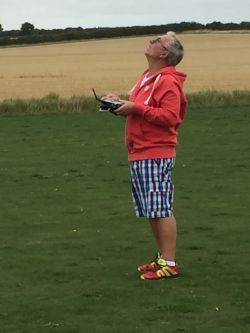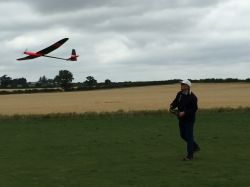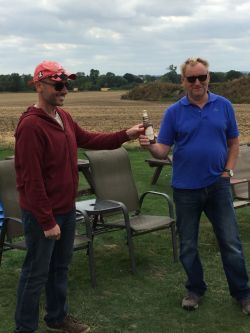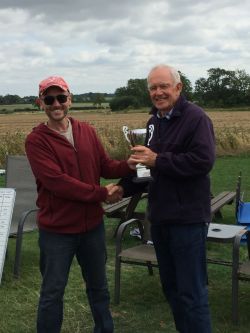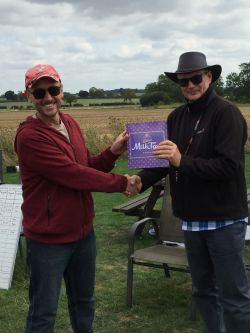 15th July 2018
On A Roll
On the weekend of the Clubs Annual flying day, Chris took several members for their A test and John C was no exception and passed with flying colours. John received his certificate at the field yesterday from Chris.
Many Congratulations goes to John.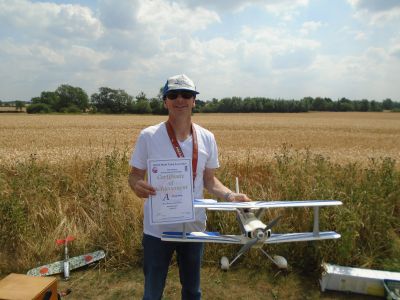 Electric and Vintage Day
On a hot sunny day 22 members turned out to fly some splendid electric and vintage aircraft. The club was graced with the presence of well known and renown model builder Peter Iliffe who showed us all why he is such a superb model maker with his miniature aircraft which are all handcrafted even down to the propellers. As a club we also have our own renowned model builder George who showed us all his Comper Swift with a ingenious folding wing design and BA Swallow. Both of these aircraft are over 30 years old and fly like they were both built yesterday. The day was not so much an event but more of a gathering of man and machines who wallowed in the days events, basking in the sun, talking and sampling some of the delights of cake and sausage rolls baked by Angie Richards.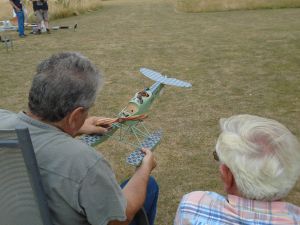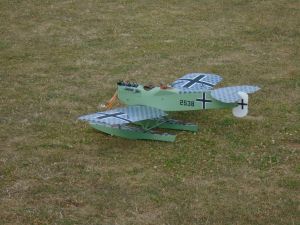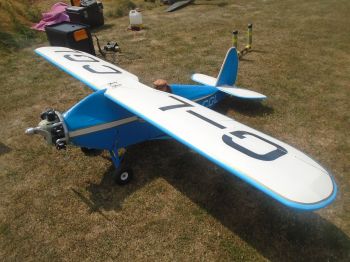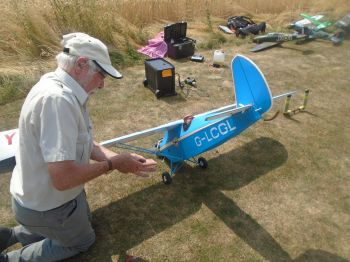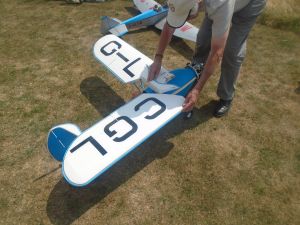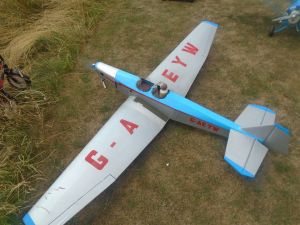 Fun, Flying & BBQ.
So as on many Sundays, many members gather together and go flying on a Sunday as they do pretty much every weekend, but this one was slightly different, with the weather set to be one of the hottest weekends in June, a few members decided to breakout the bbq & eat a selection of burgers, sausages and of course no bbq is never complete without cakes and of course a small amount of flying was done.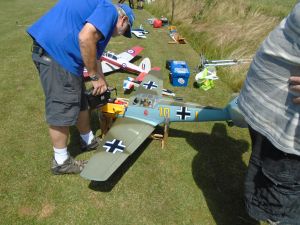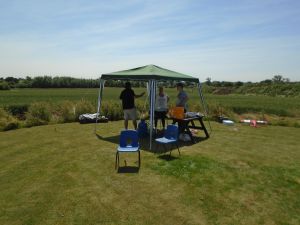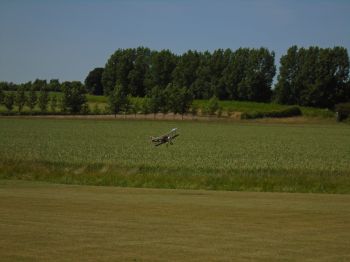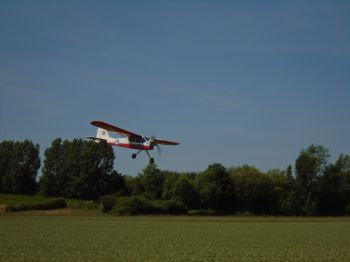 19th June 2018
Weston Park International Model Air Show
This was held over the weekend 15th,16th & 17th of June, attracting thousands of people over the 3 day event.
This is one of the most popular display in the modelling calendar. Spectators and traders were entertained by some of the countries top model flyers, such as Martin Pickering(Spain), Dennis Gutowsky (Germany), Robbie Skipton, Steve Carr, Steve / Matt Bishop to name but a few. Many members of our club were there for either the day or camping for the 3 days. Those that stopped on the Saturday evening were not disappointed as they were entertained with a night show and fireworks display. A full size display also made the line up with a clip wing spitfire (flown by 3 times Red bull Air race champion pilot Paul Bonhomme) & Trig Aerobatic Team. So if you didn't manage to get there this year, make a date for next year, Well recommended.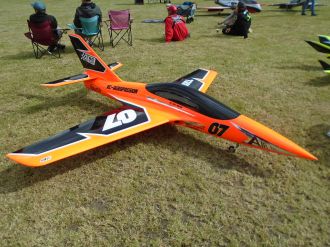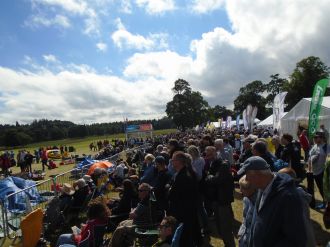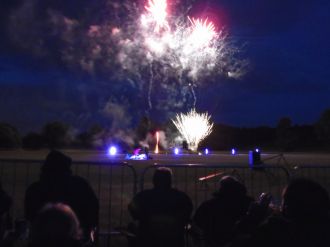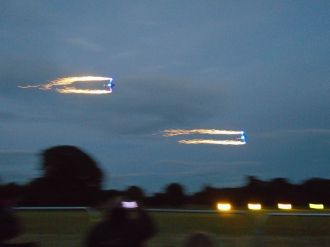 10th June 2018
Annual Club Fun Fly Day
Despite a cloudy start 25 members, family and friends attended one of the best club events in recent years. Three fun competitions were held.
1 A Timed Spot Landing: The aim is to land on the spot as close to 60 seconds as possible, with 11 entrants, David P and Dave B were first and second with 17 points and 20 points respectively.
2. Fastest Take-off, Loop, Touch and Go, Roll and landing with 8 entrants.
Caleb won with a time of 12 seconds and second place went to Len with a time of 17 seconds
3. Elimination Limbo event with 13 entrants. Winner John C, joint second Dave B, Len and David P
After the competitive events an entertaining few minutes of tail chasing with streamers took place. Several streamers were cut and no aircraft came to grief.
Throughout the day members grazed on a superb selection of cakes, sausage rolls, hot and cold drinks and a barbecue provided by Angie and Nigel. Many thanks to all who made the day a very memorable event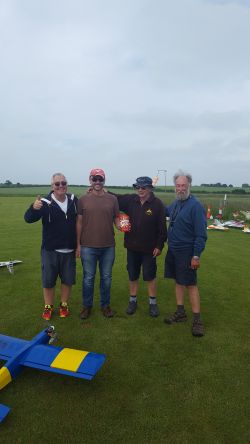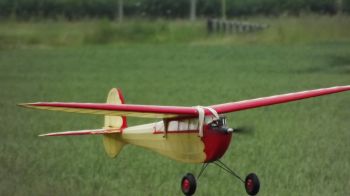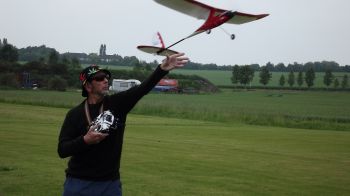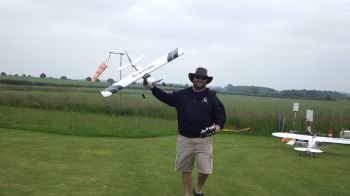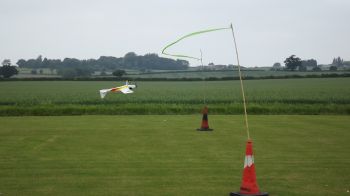 28th May 2018
Auster takes to the Skies
With light winds and a bright sky, Chris B test flew his new new Auster powered by a Laser 80 Four Stroke and built from a DB Sport and Scale Kit.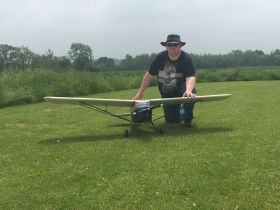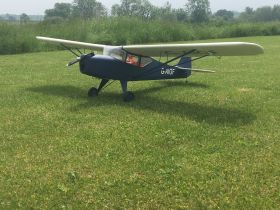 19th May 2018
2018 Bungee Gliding Event
25 members turned out to this years bungee gliding event, with the weather set to be one of the best weekends we've had in many years. The sun was shining and wind was very light at times. 20 members took part in two rounds of flying against the clock and each other, to be crowned bungee champion 2018.
After the first round members tucked in to a delicious bbq, with sausage rolls and cakes lovingly prepared by Angie Richards. Round two saw even more excitement with some members struggling with the bungee cord set up, realising too early.
The day was won by Andy R, second place went to Ian H & Third place went to Ken.
scores as follows = 1st Andy = 12.20
= 2nd Ian = 11.00
= 3rd Ken = 8.27
Many thanks to all who came and supported the event, also thank you to all that helped with the bungee, food and setup / take-down.
Third Place Ken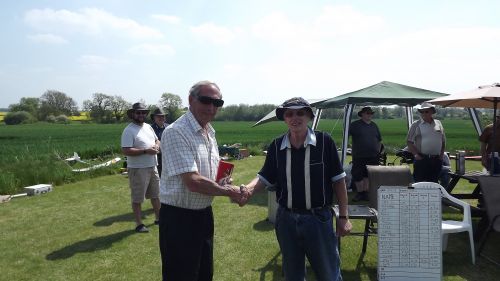 Second Place Ian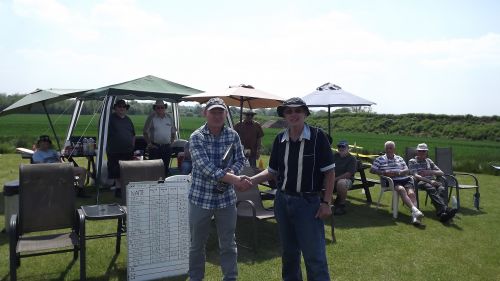 Winner Andy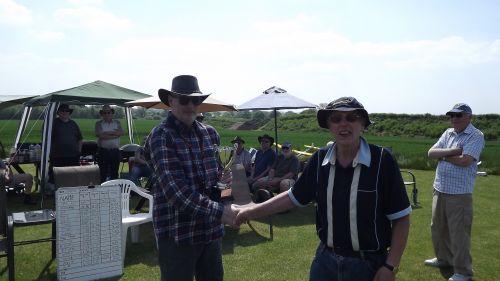 16th May 2018
On this the 75th Anniversary of the DAMBUSTERS raid
Tonight 75yrs ago 16 May 1943, Crewe's of 617 sq took of from RAF Scampton in Lincolnshire to attack the mighty dams of Western Germany.
On this day 16th may 1943 21:00hrs. 19 Lancaster's of 617 Sq took off from RAF Scampton on what would become one of the most daring raids of the war. Flying at just 60ft there and back across enemy's territory, to drop a bomb/mine that had not really been tested before. Its inventor Barnes Wallis had developed a mine that would bounce across the surface of the water like a skimming stone and set it's self against the wall of the dam, hoping to break these enormous dams Moehne, Eden & Sorper dams and flood the Ruhr valley and cripple the war machine that was believed to be relaying on this water for its war effort. Out of the 19 Lancaster's that took off from RAF Scampton only 11 Returned, 52men of 617sq had been lost, incredibly most of the losses had been getting their and back and not during the raid. Wng Cmdr. Guy Gibson DSO & bar ,DFC & bar. was awarded the Victoria Cross for drawing flack during the raid.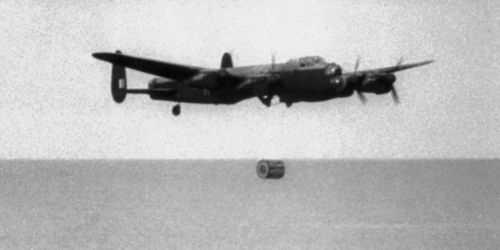 8th May 2018
Pup E flies after 15 years
A few weeks ago Ian H flew is DB Sport and Scale Pup E.
Ian says: I bought this balsa kit for my dad Kenneth as a retirement present to give him something to do. Well 15yrs later we finally got it finished and flown on Friday. The old fella was chuffed to bits. The look on his face was priceless.
Well done to Ian and Kenneth.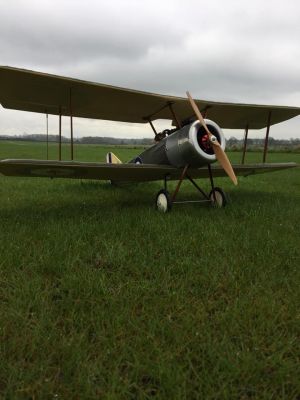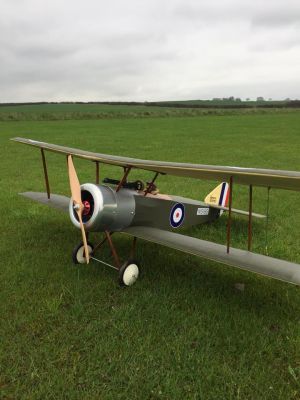 Wot 4 reaches 600
Grahams original WOT 4 FoamE reached 600 flights this weekend. Graham has been flying the aircraft since July 2011 and has only replaced some servos and the battery hatch. Well done to Graham and his Wot 4.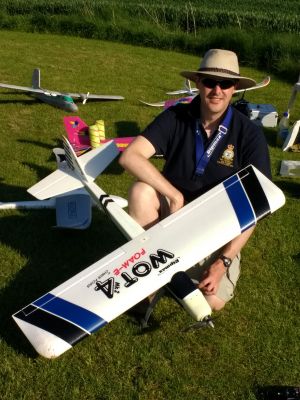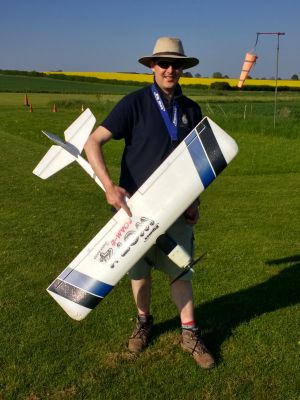 7th May 2018
Learning to Fly
With very light winds and temperatures reaching the high 20's, three cadets from 121 Squadron Nuneaton Air Cadets spent the day learning to fly models. With the help of Chris, John, David and Max, the three cadets flew a range of models, from trainers and gliders to cabin and sport models. In-between flights, all present were treated to some display flying by Lawrence and Chris with their large warbirds and Ian with his hi-performance electric models. At lunchtime, everyone tucked in to a superb barbecue flowed by ice creams, trifle, cakes and ice cold lemonade.
Many thanks to all who helped to organise the event.
Several other members also attended throughout the day to take advantage of the excellent weather and a good time was had by all.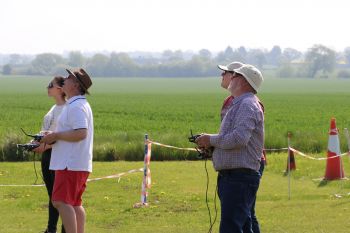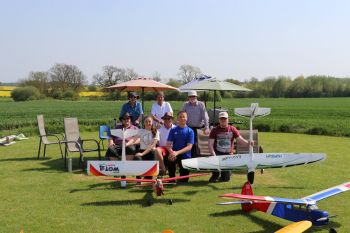 ME109 Takes to the Sky
With the sun shining and the zero wind, Tony thought it would be a good day to fly his magnificent electric powered ME109 built from a Brian Taylor plan. Sure enough, with a dozen or so spectators, Chris was handed the transmitter for the first flight. The model flew faultlessly, with little trim change and looked magnificent in the air. The electric retracts worked well and the 6s set-up provided a scale performance. Future flights will sound like the real thing with an on-board sound system.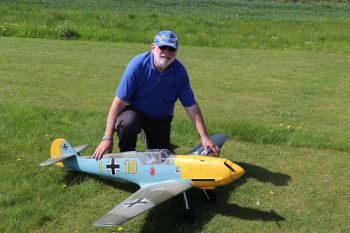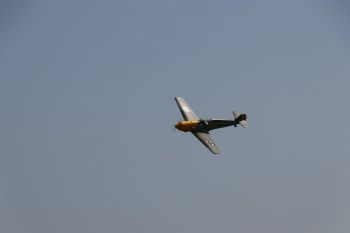 More pictures can be seen on the 'Events' and 'Pictures' page