Events 2014
Warbirds Day 15th March
Only the brave took to the skies in todays Warbirds Event.
On a windy spring day 17 Members attended the WW1 & WW2 event with the hope that the 20mph gusting westerly winds would settle down. Whilst deciding whether we were going to fly we were able to enjoy some fantastic sausage rolls which were provided by John C. There were 6 members who decided to brave the winds and they took to the air. At one stage we had 5 planes in the air with lots of fake gun noises to be heard as the pilots chased each other around the sky. The landings proved to be very challenging to say the least, with some members rearranging the shape of their undercarriages in the windy conditions. David P and Archie managed more than one flight each and this was reflected in the scoring with David P winning the event followed by Archie in 2nd place and a joint 3rd by Keith Stevens and Peter K. Thanks to all those who came out in the windy conditions to support the day.
Peter K - Events Secretary.
Winter Build 2014 8th April
Winter Build Competition won by Alan.

Congratulations to Alan who was voted the winner of the Winter Build Competition at last nights meeting with his magnificent Hawker Typhoon. Well done Alan.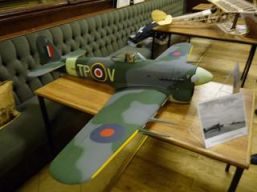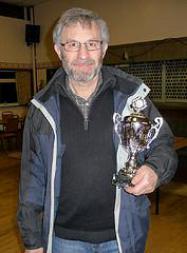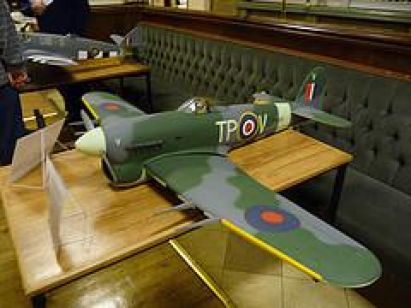 Well done and thank you to the other five splendid entries and to the four judges who had a difficult time marking the planes.
Results: Winner: Alan with Jim and Tony who were both voted joint 2nd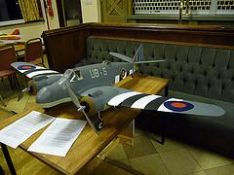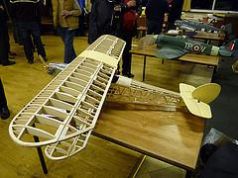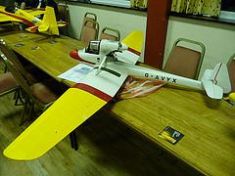 Bristol Beaufighter by Tony Hawker Cygnet by Jim Luton Buzzard by George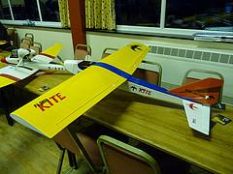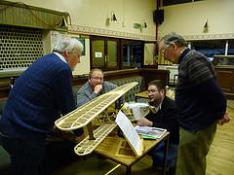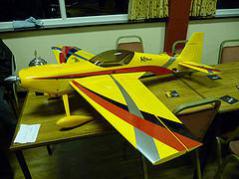 Flair Kite by Bob Judges Peter, John, Chris and Dave Katana built by Terry
Aerobatic Competition 18th April
Peter wins the aerobatic competition.
Ten members battled it out to be the 2014 aerobatic champion on what was a lovely spring day although there was a quite a stiff cross wind which made flying the set schedule smoothly and accurately slightly more difficult. Each competitor were allowed two flights and after round one everyone tucked in to a delicious BBQ of sausage rolls and burgers...mmm! This had the effect of settling most of the pilots nerves and most went on to put in a better flight score in round two. Thanks goes to John who did a splendid job judging and scoring the flights and to Martin Potts for working the BBQ so expertly and feeding the 20 or more people who attended.
Well done to Archie who loaned his plane to Peter (who damaged his plane in round 1) so he could fly in round two only to see him put in a better score and win the event. This is the second time this has happened as Archie loaned his glider at the last glider event, only to watch Ted fly it to victory!
Click on the photo below to see more pictures taken at today's splendid event held in the glorious sunshine.

Peter receives the Aerobatic Cup from Chairman Roger.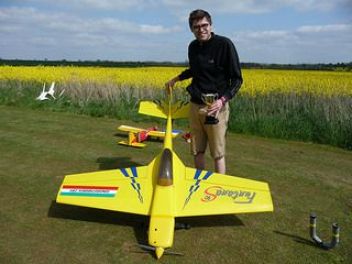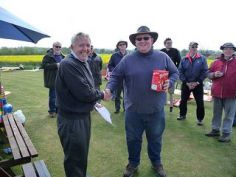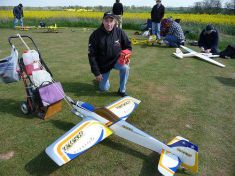 Winner Peter 2nd Place Chris 3rd Place Archie
Gliding Event for the Dave P Cup Sat 17th May
The gliding competition was won by Andy, runner up Richard S, with joint third place going to Peter K and Chris. It was a glorious sunny day which attracted a huge turnout of members who enjoyed a superb BBQ and some spectacular flying all day.
We hosted the first of two gliding events for the year on the 17 May 2014. We could not have asked for a nicer day with sunshine and blue skies, 5-6mph winds and a group of enthusiastic modellers. 34 modellers came out to show their support with 20 of those entering the event. With the bungee cord ready, names written on the board and pilots rearing to go we saw the competition kick off with last years winner Ted going first. At the end of the first round Peter K was leading with a 6:10 flight, a bit of beginners luck he thinks. Peter, Chris and Alan got lunch sorted with a lovely bbq and everyone enjoyed hamburgers and pork sausage on rolls that were cooked to perfection. Peter treated all members to a taste of some Boerewors, a South African sausage and we were then ready for round two. After two rounds Peter was still leading with a lead of 1 minute. The best 8 times were put through to take part in round three. Andys final flight saw him find a fantastic thermal and he soared to victory with a winning flight reaching 6 minutes with a bonus of 10 seconds for landing on the runway for that flight. Andy's winning time was 11:33. This then knocked Peter off the leader board. Borrowing Andys glider was the name of the game this year and this saw Rich S achieve second place with an overall time of 8:23. Chris, using the same glider, then took to the sky and a last second loss of lift had him land in the wheat. This took him into third place, tied with Peter K with an overall time of 7:45min.
This event would not have been the great success it was had so many members not helped out. Thank you to the following members for the following jobs. Ted and Bob for doing the timing. David P for arranging the prizes and sending out the emails. Dave, Alan, Geoff & Max for operating the bungee. Peter K, Chris and Alan for the bbq. Nigel and Chris for helping setup and pack away.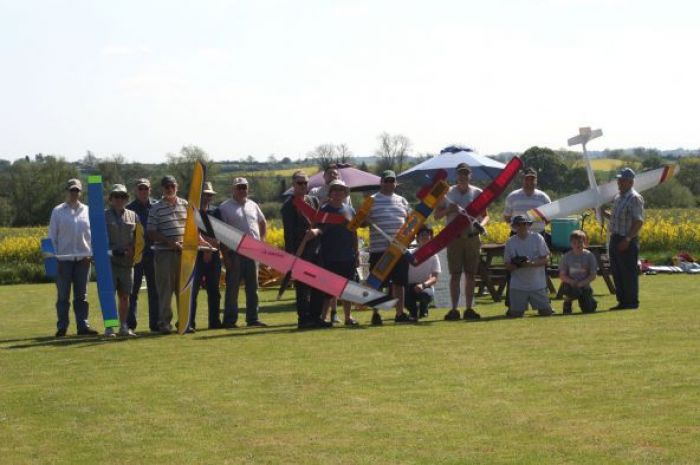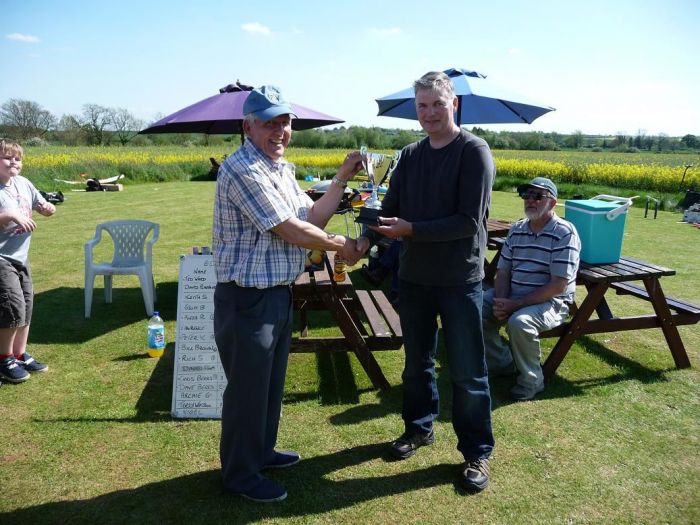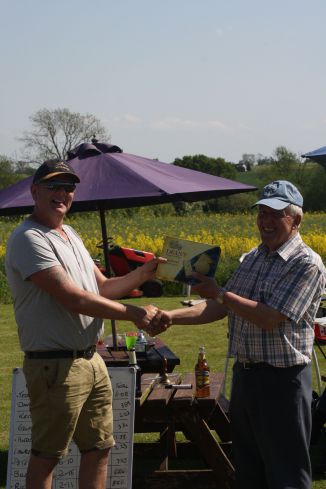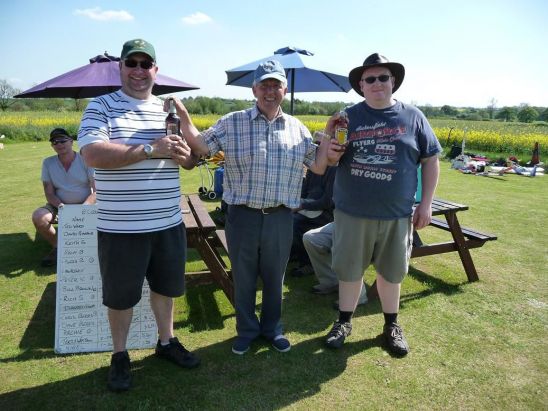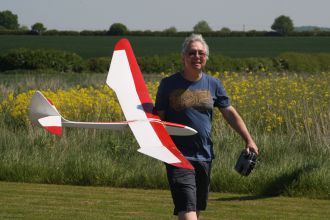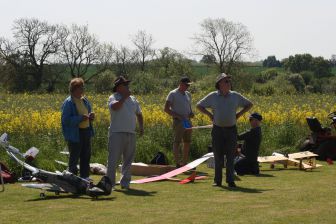 Club Fly-in and BBQ 21st June
On the 21st June, 30 members came out to support and take part in the Fun Fly day. We had 3 events planned, the first was a Spot landing with a time closest to 1 minute. Peter B amazingly landed 1ft from the plate in a time of 58 seconds putting him in first place. Richard came second after using the nose cone of his spitfire for brakes followed closely in 3rd place by Dave B.
The second event was a timed flight for the fastest 'Take off, loop, roll, touch & go and landing. This was Won by Matt, with an excellent time of 41 seconds followed by Chris in 2nd and Tony B in 3rd place.
The 3rd event saw members attach streamers to their planes and get a group of planes zooming about chasing each other. A good day was had by all. Thank you to everyone who supported the event and to David Playfair for judging, timing the events and arranging the prizes. Thank you to Alan, Chris, Nigel and Peter who put on the bbq for the members which helped with our fund raising for the local air ambulance.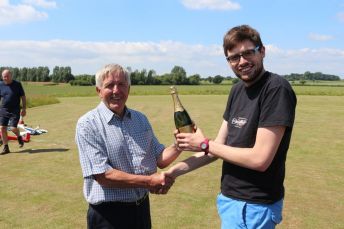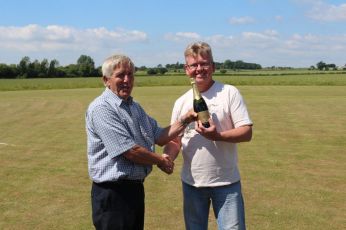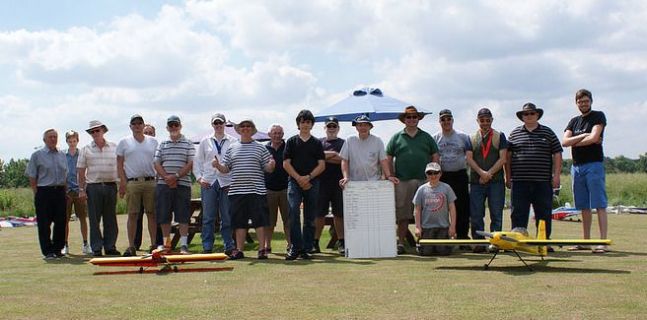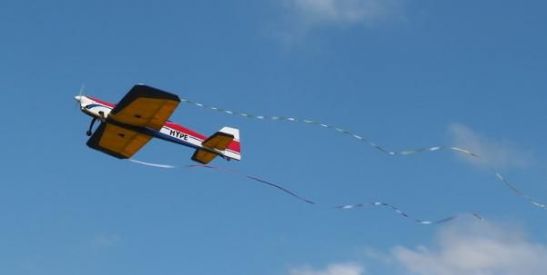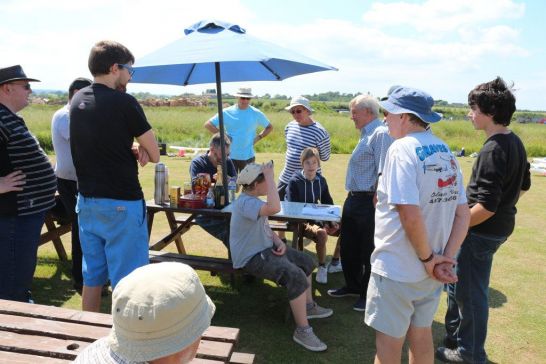 Electric and Vintage Day 26th July
Vintage & Electric Planes Get Together attracts a good turnout of some very attractive 'old timers'.
On Saturday 26th July, 22 members brought along their electric and vintage models and enjoyed some very relaxing and enjoyable flying on a beautiful sunny day. For more photo's taken on the day please click on the picture below.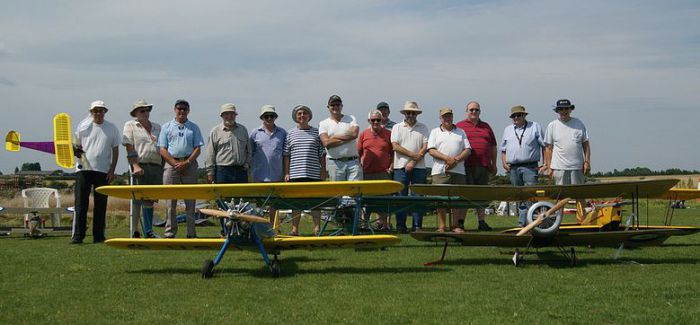 Summer Festival 16th August
Twenty one members gathered together yesterday for some fun flying and enjoyed a delicious BBQ.....what could be better?
Forget fast flying precision aerobatics for entertainment, ..... this months event was nail biting, high tension and white knuckle excitement to see who could fly the S..L..O..W..E..S..T in a straight line over a distance of 50 metres. With a brisk wind blowing up to 16 mph, competitors did well to hover their planes whilst flying into the wind to achieve some incredibly slow flight times. This extreme flying was too much for some members to watch and decided to make yet another (and another!) trip to the excellent BBQ for some more sausages and burgers.....mmmm!
Considering the weather conditions it was a marvellous turnout and great fun event which was won by David P followed by Roger W and Chris. Thank you goes to Peter K for organising the day and running the wonderful BBQ and to all those who helped in timing and scoring.
Thanks also goes to Tony's son, James who demonstrated his Drone Copter Camera which hovered rock steady in the winds whilst taking live video pictures. Look out for the results to be shown here soon.
For more pictures please click on the pictures below.

Scale Event 31st August
Scale Day attracts an excellent turnout which was won by Chris Berry.
Despite the stiff breeze, 21 members turned up to fly and watch some superb planes fly in this years Scale Event held today. After three hours of flying, everyone attending voted for the top three planes they thought had flown in the most realistic manner and the runaway winner was Chris flying his superb 1/5 scale P47. David P with his colourful Texan was second and John H flying his beautiful Spacewalker was third. Archie, Richard Stevens and Andrew C were joint fourth. Well done and thank you to everyone who flew and attended which made today a very entertaining and successful event.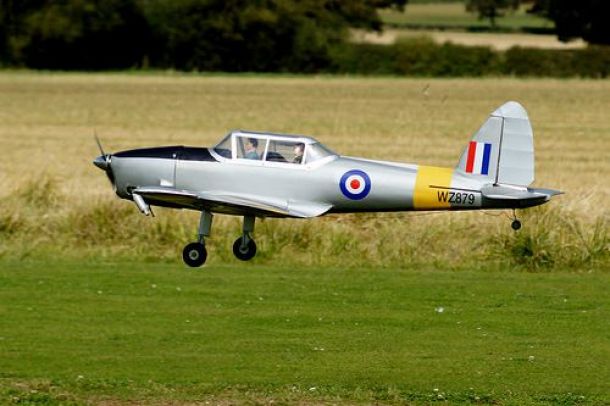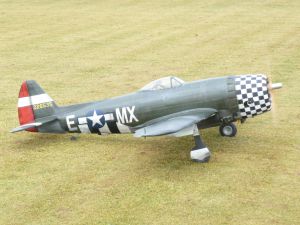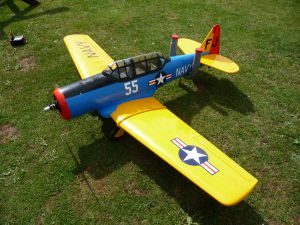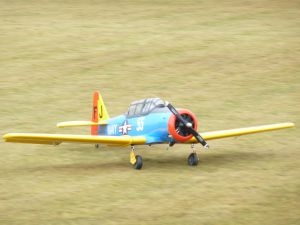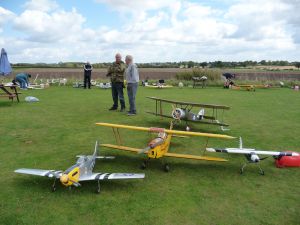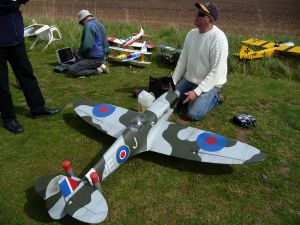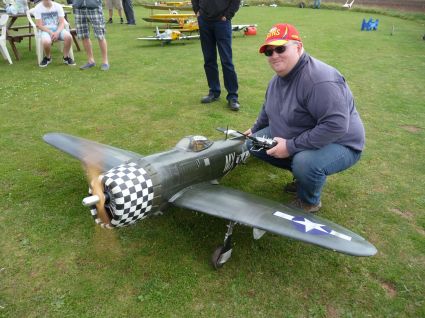 Above, Champion Chris prepares for another winning flight with his P47. Well done Chris.
Below. John H just before his maiden flight with his superb Blackhorse Spitfire. Unfortunately engine problems prevented John from flying this plane in the Scale competition but took to the air in the afternoon. Very nice John.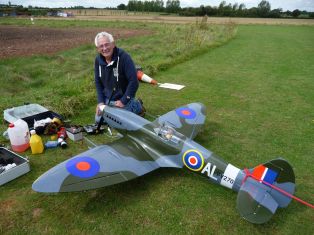 Chairman Roger presents the prizes to Chris, David and John.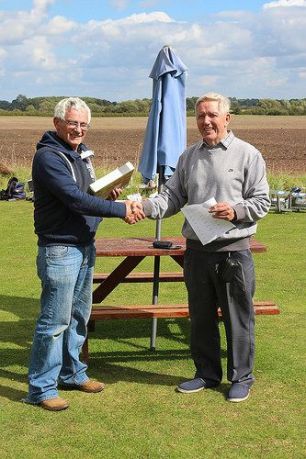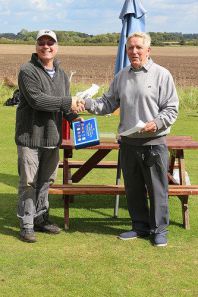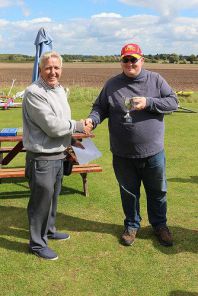 Gliding Event for the Dave P Trophy Sat 20th September
Ten members flew in very light winds today to compete for the Dave PTrophy, but the grey, overcast weather conditions were never going to be conducive for very long flights. After round two, most flight times were only about two minutes long, apart from Gordon who flew very skillfully and logged two good flights of well over three minutes each. Whilst tucking into a delicious bbq we all were convinced that Gordon was home and dry with only one round of flights to go. However, on his last flight David P must have caught a mini thermal and teased out a staggering near six minute flight to take the lead with only Gordon left to fly. Using every ounce of his concentration and experience, Gordon produced the best flight of the day to win making it a very tense and exciting climax to the event. Very well done Gordon. Congratulations go also to runner up David P and to Dave M in 3rd place. A big thank you to Peter K for the bbq and Andy who once again very generously allowed others to fly using his glider. Thank you to everyone who flew and for the great banter which made the event so very enjoyable.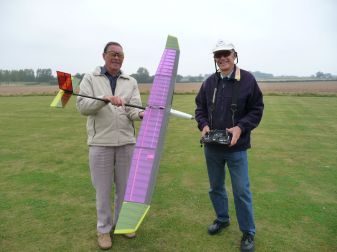 Winner Gordon receives the Trophy from the Chairman Gordon with his winning plane and helper Terry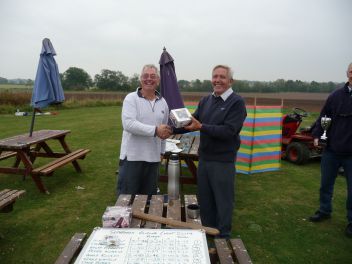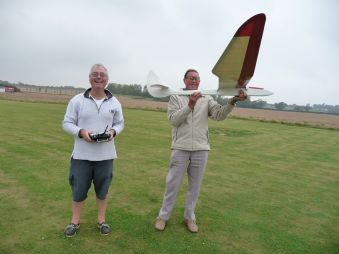 2nd place David P receives his prize cake...mmm!DP with his 'Bird of Time'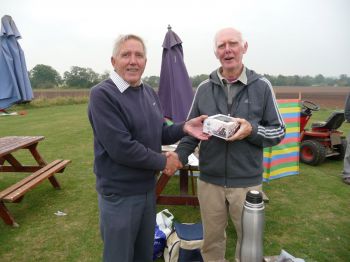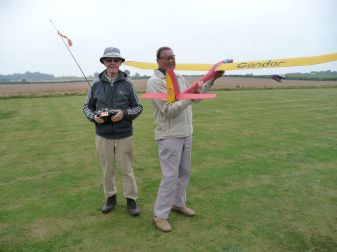 3rd place David M receives his cake and seen here with his 'Condor' plane. First time Dave has flown for nearly 2 years!
#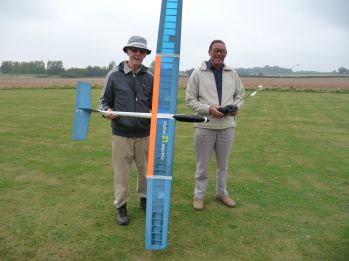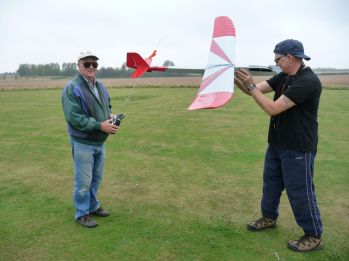 Dave M Geoff B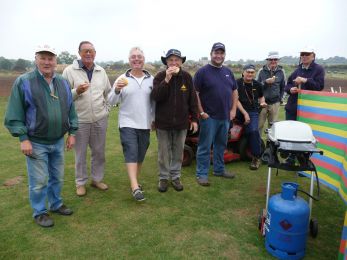 Great BBQ and burgers....well done and thank you PeterFinal Scores
Microlight Day 27th September
Despite a cloudy day, and with a limited turnout, we were blessed with 6 aircraft ready to take people for a flight around the area. Several aircraft came over from Wolvey to give some pleasure flights including Garry's red Quik R Flex Wing, which proved very popular. Peter K and his dad did a sterling job with the barbeque and as usual the food was cooked to perfection. Although there were only 10 of our members with 7 friends and family also enjoying the day, we all had a good time, with 15 flights taking place in 6 aircraft. We even had a low level visit from a passing motor glider. Visibility was very good and even from the local area, landmarks such as Radcliffe Power Station on the M1, Bruntingthorpe Airfield and Magna Park could easily be seen.
Members present were Paul L, the Berrys, Roger P, Andy, Terry, Peter K, Max, Eric and Mick R.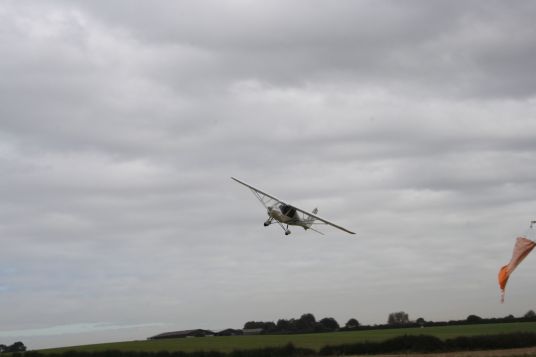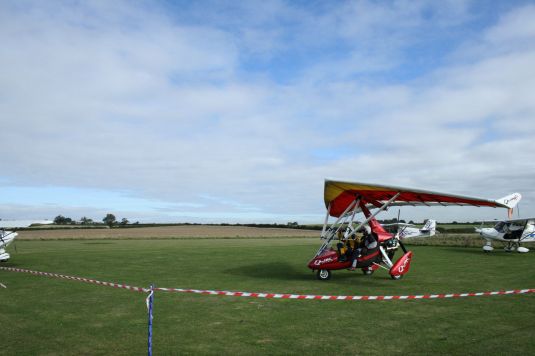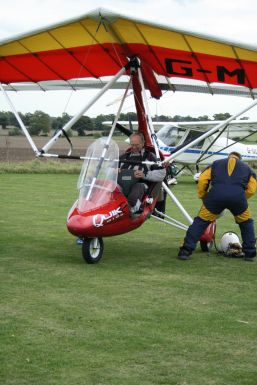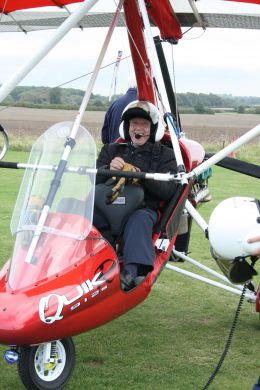 Dave B and Roger P preparing for their flights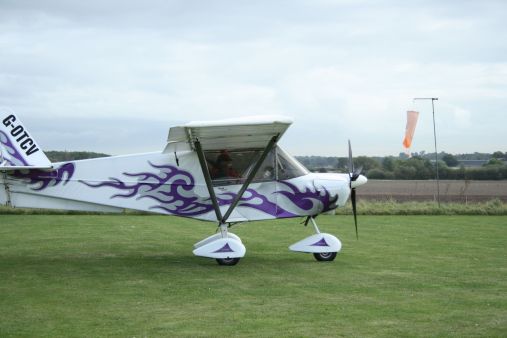 Andy's son returning from his flight. Not to be outdone, Andy flew a few minutes later.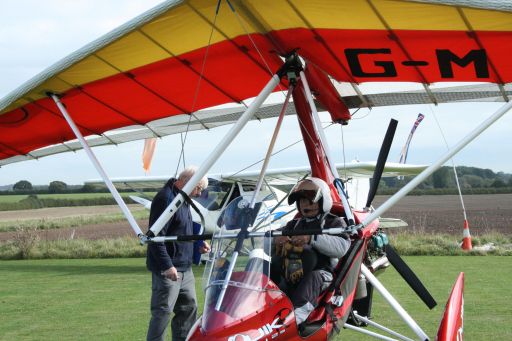 Eric preparing for his flight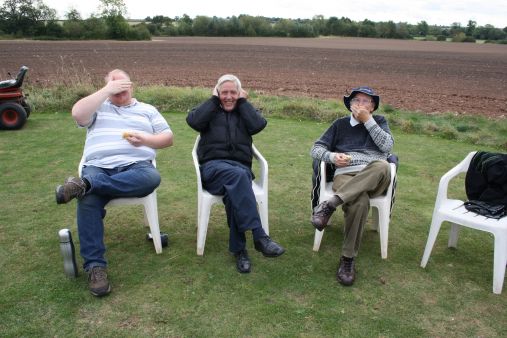 Bonfire Night Event 1st November
The Bonfire, BBQ and firework evening was a great success.
Over 50 people came along and enjoyed a splendid evening of fireworks lasting 40 minutes whilst standing in front of a roaring bonfire and tucking into a magnificent feast of barbequed burgers, hot dogs, sausage rolls and roast pork followed by home made cakes and delicious fruit pies. A very big thank you goes to Nigel and his wife Angie who laid on the fantastic spread of food and spent the whole evening behind three BBQ's grilling the burgers to perfection. Well done and thanks also goes to the committee for the organizing the event and to everyone who helped and attended our firework evening.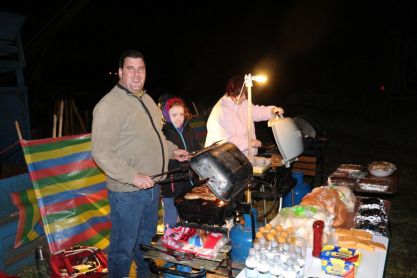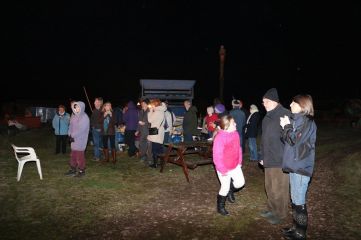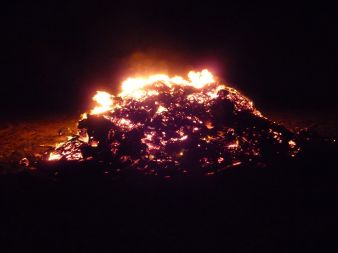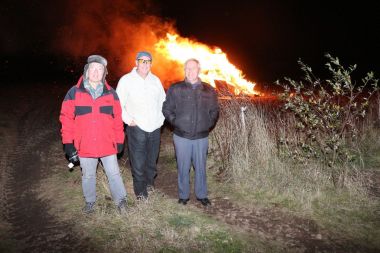 Christmas Quiz 8th December
Christmas Quiz and Buffet enjoyed by all
Over 35 members formed 7 teams to find the answers to some easy and some intriguing questions prepared by John C at the superb Christmas quiz. Questions were all aviation related and some were rather cryptic. The winning team with 32 points was Gordon, Alan, Dave M, Martin P and Chris. Following the quiz, a magnificent bring and share buffet prepared by all those members attending added to the atmosphere of the night. Thanks to all involved.
The runners up with 29 points. Dave B, Roger P,
The winning teamJim, John B and Terry